A. GEORGE DEAKE
(While it may never be possible to 100% prove the origin of George Deake and his brother Richard Deake, birth records have been found of two brothers born to the same family in Minehead, Somerset, England. Their birth dates coincide exactly with the estimated birth dates determined by when they became Freeman in the Rhode Island Colony. Many early record also spell the surname name Deak).
George Deake was born in September 14, 1691 to parents Charles and Mary Deake at Minehead, Somersetshire, England. It is believed he and his older brother Richard came to the American Colonies, prior to April 1716, as Pressed Sailors. A legend told and recorded in 1925 by a town historian in Hopkinton, R.I., indicates that two brothers, who were "pressed" sailors, jumped ship in Providence, R.I. harbor and escaped into the wilderness of Rhode Island Colony. This historian was in her 90's at the time this was recorded and she and her family had lived in Hopkinton all their lives. . From the 1500's to the War of 1812 the British and other countries, at a loss for voluntary sailors, would capture young men off the streets of coastal towns, offer criminals the chance to join the Navy for a few years and work off their crime, or capture merchant ships of the enemy or even friendlies and 'impress,' or remove from the ships, sailors that were able-bodied, and force them into service for Britain. Impressed sailors were there completely against their will, and many would run at the first opportunity or attempt to stir up mutiny aboard the vessel. We know that George did settle in the same area as his brother, the Town of Westerly, Kings Co., R.I. (The Town of Westerly later split to become Westerly in the south and Hopkinton in the north. They lived in the Hopkinton area).

The first record of George was June 15, 1721, when he married Susannah (last name unknown), by Justice Christopher Champlain in Westerly, R.I. (The last name appears to start with the letter "P" but it not legible in the original Town Records.) There has been speculation that Susannah's surname was Prossor. In 1718, George's brother, Richard, purchased land from a John Prossor. This marriage was recorded in the Town records and entered in the journal on June 5, 1739. Family legend indicates she was born in Westerly, R.I.

On April 4, 1723, George was listed in the Inventory of William Wilkinson as having one bond from George Deake, payable in March 1729 (19lb. 10s.).

By Oct. 4, 1727, George owned livestock because on that day his earmark (identification mark) was recorded in the Town Records. "Ear Mark fork in the top of the left ear and a hole high the middle the right ear & a half penny under the same eare. His horse brand - thus GD: Registered by John Babcock Clerk." In 1730 George was paid 6s. from the estate of Jabez Tucker. On Aug. 31, 1741, George was listed in the estate of David Babcock "to receive of George Deaks upon bond 39=9=9". Dec. 26, 1741, Susannah was accepted as a member of the First Seventh Day Baptist Church of Hopkinton.

On March 18, 1744 George purchased 64 1/3 acres from Joseph Maxson, Jr. of the Town of Stonington, New London County, Connecticut, which was just across the Colony Line from Rhode Island. This section purchased by George later became what is today Hopkinton, R.I. Unlike his brother, George appears to have been a quiet, home loving type of person who preferred to farm, raise a family and generally tend to his own business. The Deake farm located about a mile or mile and half from the Connecticut Colony Line appears to have been originally rented or homesteaded.

On April 7, 1745 he was admitted as a Freeman which gave him the rights of a citizen. It was necessary in those days to take the Freeman's oath before one could vote. The fact that George did not own land until 1744 is, no doubt, the reason he waited so late in life to become a Freeman as most Freeman had to be landowners. He continued to live in Westerly, R.I. until his death some time between March 29 and April 28, 1746. (His will was written March 29, 1746 and was proven April 28, 1746). He died at an age of about 56, leaving an estate valued at 729 pounds, 16 shillings and 4 pence. His burial location is unknown; however, in recent times a grave of an unknown person was found in a field behind the Deake/Utter home in Hopkinton, RI.

On November 28, 1748 Susannah moved to Stonington, Conn. with her daughter Anna and probably daughter Sarah. Her married daughters Elizabeth (Clarke) and Susannah (Clarke) lived in Stonington, Conn. Prior to 1750, Susannah and several members of the family joined the Sabbatarian (Seventh Day Baptist) Church. Church records show that she withdrew from that church in 1754. Quote in church records: "At a church meeting held at the church in Westerly on the 29th day of December 1754, present Elder Thos. Clark and approximately 22 members. Elder Clark, Geo. Stillman, Joshua Clarke and Zaheus Reynolds made report that they, agreeable to their instructions from the church had visited the following members viz: Samuel Burdick, Jr., Hubbard Burdick, son of Robert, and his wife Tracy, Samuel Maxson and his wife Ruth, Ann Lewis wife of John , Jane West, Richmond Reynolds, Joseph Reynolds, Jr., Susannah Deake and Hubbard Burdick's wife, and they all declared that they had and did withdraw themselves from this church. Where afore this church doth esteem them to have broken covenant with this church and gone off from us. December 29, 1754." These people all lived in the northwest corner of the town and may have broke off to form their own church. (At least three of the daughters married Baptist Clergyman) Susannah continued to live in the same area until her death some time before 1774.

On May 30, 1757, eleven years after his death, a division of the land was recorded in the Hopkinton Town records. The farm was willed to the three younger boys; Edward, George Jr. and Charles. According to his estate inventory, it would appear that George was a modest farmer.

Click to copy of George Deake Will

The Last Will and Testament of GEORGE DEAKE

In the name of God Amen the 19th day of March Seventeen Hundred and Forty Six I George Deake of Westerly in Kings County in the Colony of Rhode Island in New England being varry sick and weak in body but of perfect vision and memory Thanks is given to God Therefore a calling us to mind the mortality of my body and knowing that is appointed into all men given to die Do make the ordain this my last Will and Testament That is to say principally and first of all I give and recommend my soul into the hands of God that gave it and my body I recommend to the earth to be buried in decent christian burial at the discretion of my executor. Nothing doubting but the great resurrection I shall receive the same again by the mighty power of God and a touching such worldly estate where with it hath pleased God to bless me in this life I give demise and dispose of the same in the following manor and form

Item: My will is that all those debts that I owe in right to all persons what ------ be well and tautly paid by exec. hereafter named.

Item: I give and bequeath to my dearly and well beloved wife Susannah Dake the best bed and bedding that I have in the house.

Item: My will is that all the rest of my furniture and household shall be equally divided between my wife and six daughters that is to say Mary, Elizabeth, Susannah, Thankful, Sarah, and Anna Dake.

Item: I give and bequeath unto my three youngest sons Edward Deake, and George Deake and Charles Deake all my land and buildings to be equally divided amongst them three. When they shall come to age of twenty one years and my will is that my wife shall keep all my real estate in her hand until my three youngest sons comes and my will is that my chattels and stock be sold and after my debts be paid and the legacy, that I shall give to be paid, my will is that the remainder of the money with all the rest of my money be put out to use until my three youngest sons come of age and my will is that they shall then be divided equally among my three youngest sons.

Item: I give and bequeath ten pounds in money of the old tenor to my eldest son John Deake whom I likewise completely make and ordain with my wife to be executor of this my last Will and Testament.

Item: I give and bequeath to my six daughters above five pounds in money apiece of the old tenor to be paid to them by my exec. and I do hereby attest, disallow revoke and default all and every other former testaments, wills legacy, and bequeath and executors by me in any way or ways before named wills and bequeathed ratifying and confirming this an no others to be my last Will and Testament. In witness whereof I have here unto set my hand and seal the day and year above written.

Signed sealed published and declared by the said George Dake as his last Will and Testament in the presence of us the subscriber

William Hadfall
Dorcas Hadfall
Joshua Rathban George Deake Seal

Mr. William Hadfall and Dorcas Hadfall the witness to the ----- and above will appeared in court in Westerly this 28th day of April AD 1746 and made oath that they saw the testator sign seal and declare this will to be his last Will and Testament and that he was in his perfect sense mind and memory at this same time and that they with Joshua Rathban ----- other witness to this will signed in the presence of the testor.

Before Silas Greenman

Voted and accepted this 28th day of April 1746
By order of W. Babcock County Clerk

Entered April the 28th 1746
By W. Babcock County Clerk
Received Westerly -----: lst 1750 of Mr. Richard Deake the full of all acres debts dues and demands due to the estate of George Deake late of Westerly Dec: Rec by me the executor to said estate

Jodiah Davis
Arnie Davis
John Deake
Entered March 28 th 1757
by order of Silas Greenman County Clerk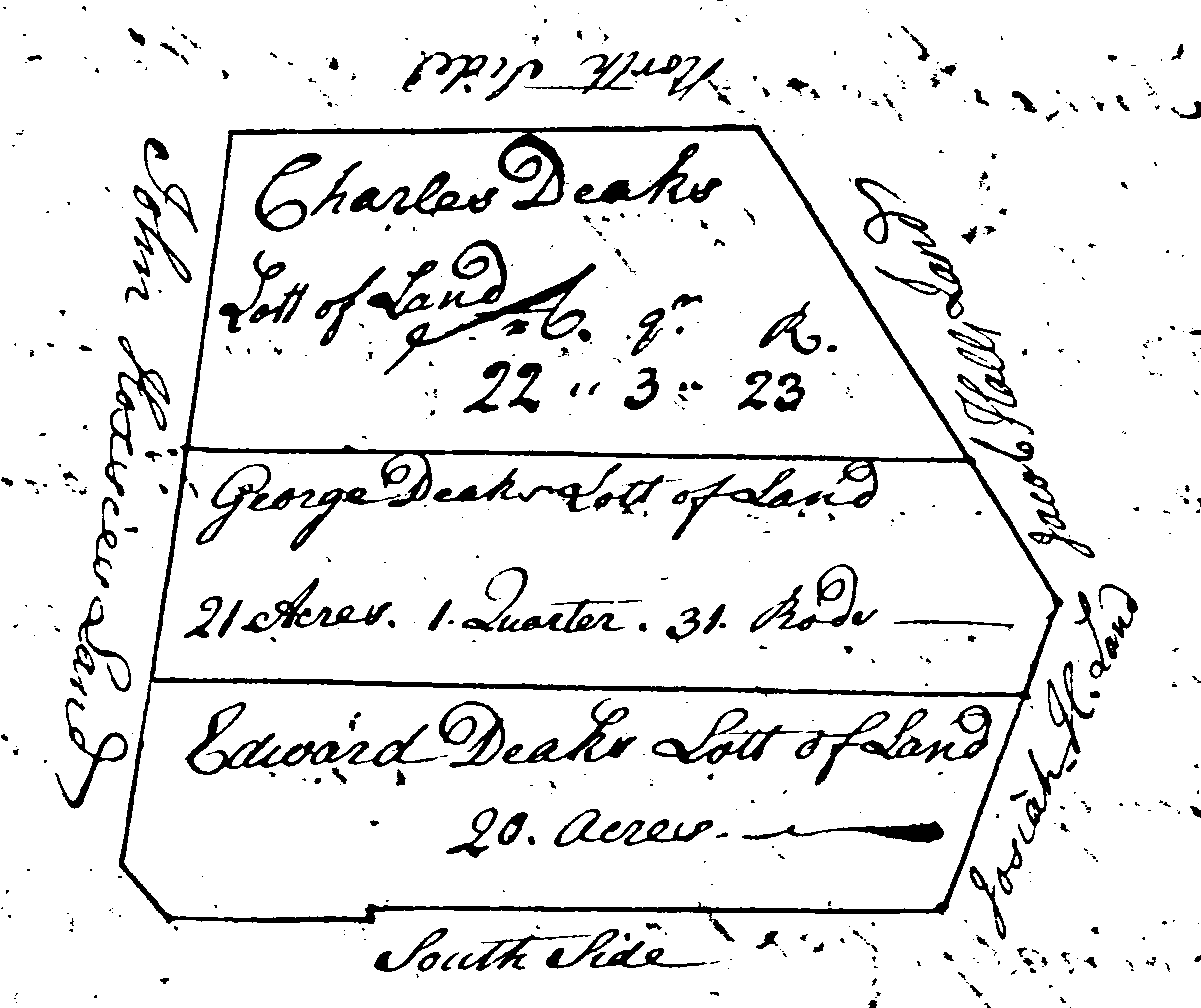 LAND DIVISION BETWEEN DEAKE BROTHERS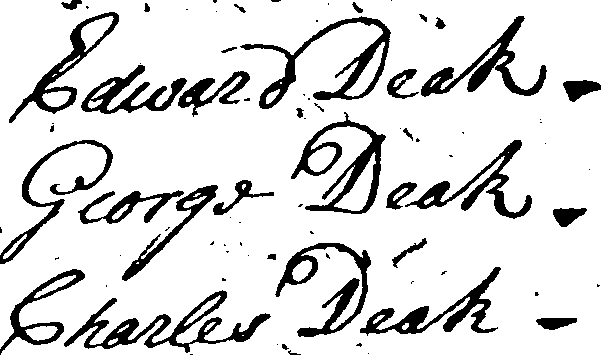 DEAKE BROTHER SIGNATURES
---
A True Inventory of the Goods and Chattels of
M GEORGE DEAKE Late of Westerly Dec.
| Item | £ | S | p |
| --- | --- | --- | --- |
| Item is Wearing Apparel | 27 | 5 | |
| Item is a Bond from Elias Thompson | 198 | | |
| Item is a Bond from Tho Edwards | 83 | 3 | |
| Item is a Note from Jer L. Lake | 5 | 3 | |
| Item is a Note from Jonah Hill | 3 | 7 | |
| Item is a Note from Jed Button | 2 | 5 | |
| Item is a Note from Joshue Babcock | 14 | 1 | 5 |
| Item is a Bond from Nicholas Larkin | 43 | 13 | 10 |
| Item is a Note from Hubb Burdick | 9 | 8 | |
| Is Two Cows @ | 28 | 0 | 0 |
| Is Nineteen Sheep @ | 28 | 10 | |
| Is 2 Heifer and 1 Poor Cow | 21 | | |
| Is One Poor Bull @ | 4 | | |
| Is One Team of Oxen @ | 10 | | |
| Is 2 Old Mairs and One Colt @ | 10 | | |
| Is 2 Axes and Other Tools all @ | 2 | 15 | |
| Is Trammels Slip and Tongs all @ | 2 | 15 | |
| Is Old Worsted Combs @ | 2 | 10 | |
| Is Sandles and Pannel @ | 6 | 10 | |
| Is a Horse Tackling @ | 1 | 10 | |
| Is a Warming Pan and Frying Pan old @ | 1 | 4 | |
| Is Pails and Other Old Wooden Ware old @ | | | 1 |
| Is Stone and Erthan Ware 20th Sonia Butter @ | 1 | 16 | |
| Is Pewter Ware all @ | 11 | | |
| Is Showmaking Tools and Sheep Shears @ | 16 | | |
| Is Box Iron and Heater @ | 1 | | |
| Is Old Steel Yard Burning Iron @ | 1 | | |
| Is Razzers and --- and all @ | 1 | | |
| Is Candlestick and Candles @ | | 6 | |
| Is Glassware and Combs @ | 18 | 6 | |
| Is Old Bibles and Other Old Books and | | | |
| Spectacles @ | | 2 | 5 |
| Is Linning and Wollen Yarn @ | 5 | 4 | |
| Is Duroy and Druggets @ | 9 | | |
| Is One Bed and Bed ---- Furniture @ | 28 | | |
| Is Trundle Bed --- Bed and Bed Clothes @ | 10 | | |
| Is One Bed Furniture in the Chamber | 20 | | |
| Is a Trundle Bed and Bed Clothes in | | | |
| the Chamber | | 12 | |
| Is Loom and Tackling @ | 8 | | |
| Is Some Corn and Some Wheat and Old | | | |
| Lumber all @ | | | 4 |
| Is Some ---- and some Flax all @ | 2 | 7 | 3 |
| Is One Drawing Knife and Old Iron @ | 2 | | |
| Is 2 Kows --- --- @ | 16 | | |
| Is One Hide @ | 1 | | |
| Is 4 --- all @ | 2 | 4 | |
| Is Some Salt @ | 10 | | |
| Is 2 Wooden Wheels and Linning Wheal @ | 3 | | |
| Is Soal Leather @ | 1 | 13 | |
| Is More Leather @ | 2 | 1 | |
| Is Meal and Old Baggs Sope and Other | | | |
| Old Things in the Backroom | | 2 | |
| Is Powdering Tubs and Meat @ | 7 | 10 | |
| Is One Crock and Box @ | 1 | 10 | |
| Is One Iron Barr | 2 | | |
| Is Knives and Forks and Ink Jugg @ | 10 | | |
| Is Stearch and Flower and Old Towel @ | 8 | 6 | |
| Is Table Cloth and Towel @ | 10 | | |
| Is a Plows Chairs and Old Ox Tackling @ | 8 | | |
| Is Siths and Tackling @ | 1 | 10 | |
| Is Cart and Wheels ---- and Boxes and Slead | 5 | | |
| Is Six Swine and 2 Little Piggs all @ | 11 | | |
| Is a Riddle Old Tub and Some Flax Seed | 10 | | |
| Is Pitch Forks and Rakes @ | 12 | | |
| Is Cards and Tosa and Runnel Baggs @ | 1 | 6 | |
| Is a Pair of Shear | 12 | | |
| Is Three Old Barrels | 15 | | |
| Is Bachts Rings and One Wedge | 12 | | |
| | 729 | 16 | 4 |
---
Taken this 28th day of April AD 1746
By John Hopsie
John Maxson 2nd The two Inventories within named ------ Mr. John Hopsie and Cap. John Maxson appeared in Town Court in Westerly the 28th day of April AD 1746 and made oath that they have put a true estimation on the personal estate of the late Dec George Dake as presented to their view according to the best of their judgements.

Before Silas Greenman

Susannah Deake and John Deake Exec. to the last Will and Testament of the within Dec George Deake appeared in court, in Westerly the date above written and made oath that they have showed all the personnel estate of the Dec Deake according to law before -----

Before Silas Greenman
Voted and accepted the date above by order of W. Babcock, County Clerk

Entered April the 28 AD 1746
By W. Babcock County Clerk
Kings County

By virtue of the power granted to the Town ----- of the Town of Westerly in the County aforced for the probate of Wills and grantings of Letters of Administration within Town Ship -----.

To all people to whom this preseals shall come greeting We the Town Coun ; of Westerly aforesaid according to the power of law invested in us do hereby give grant and fully empower Susanna Deake and John Deake ---- Exec to the last Will and Testament of George Deake late of Westerly Dec to administrator on all and singular the goods chattels and credit of the Dec Dake and to ask and do whatsoever is needfull, necessary and proper to be done relating providest it be correspondant with and exactly agreeable to the laws of this Colony In such cases made and provided in Testimony of which and confirmation of the ----- by order and in behalf of the Town ---- I have given forth this power of administration under my hand and seal this 28th day of April in the 19th year of his Majesties Reign

Amog Dome 1746

By W. Babcock County Clerk

See actual copy of George Deake Inventory.

Map of Hopkinton, RI.