AHAHBBC. LEWIS CARLTON DAKE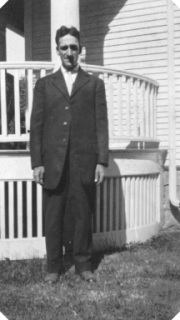 LEWIS CARLTON DAKE
On March 17, 1884, Lewis was born in Eden Township, Benton Co., Iowa to parents Floyd Adelbert Dake and Mary Catherine Young. He always went by the nickname of Carl. His sister Nira told stories about Lewis' childhood; " When Carl was a little boy he was riding one hot summer day with grandfather in a buggy. He picked up the horsewhip when grandfather wasn't looking and hit the horse hard. When the horse started running fast, Carl turned to grandfather and said " See grandpa its much cooler when we go fast". She also told the story about Carl enjoying riding down a hill in a buggy using only ropes to steer.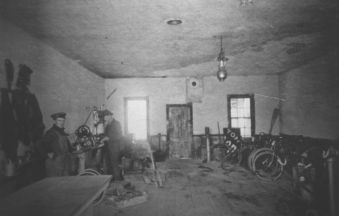 LEWIS CARLTON DAKE'S BICYCLE SHOP


He attended Tilford Academy (equivalent to High School) in Vinton, Iowa. According to the 1915 Iowa census, he finished 12 grades plus one year of college. This must have been advanced training at Tilford Academy. After graduation he ran a Bicycle Repair Shop with a partner (Albert Cook).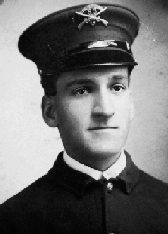 CARL IN UNIFORM
IOWA NATIONAL GUARD, COMPANY G



Around the time of World War I, he belonged to the National Guard, Company G. (See attached picture of Company G in 1905) Once while on military maneuvers they need food and he shot a robin to eat. For several years he was a Volunteer Fireman. He lived with his brother Floyd R. Dake, on the farm worked by their parents, prior to their move to Vinton.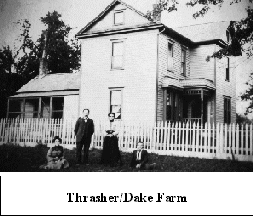 He married Maude Ann Thrasher in Vinton, Iowa on Feb. 9, 1910, in the Henry Thrasher home. They moved to his father-in-laws' farm, in Big Grove Township, when Mr. Thrasher retired from farming and moved to Vinton. They had a son who died at birth.



In the 1915 Iowa Census his total income for 1914 was listed as $500. In the same Census he was listed as owning the following farm animals:



3 Calves             				      $36. 

1 Steer                    		 	      $32. 

2 Heifers               			     $60. 

3 Cows kept for milk    		$100. 

5 Horses                			     $500. 

70 Swine                			     $500. 

259 Fowl, all kinds    			$100.


He tried to purchase the farm from his father-in-law but defaulted during the Depression. He later inherited the farm from the Thrasher Estate. The family farm was located (S.W. 1/4 of S.W. 1/4 and S.E. 1/4 of S.W 1/4 in Section 13 and N.E. 1/4 of N.W. 1/4 of Section 24, Township 84, 120 acres.) All the buildings on the farm burned in June 1, 1934 with the exception of the house and had to be rebuilt.


---
3 HORSES DIE IN BLAZE ON FARM
Fire Sweeps Five Buildings On Carl Dake Place
BENTON COUNTY NEWS
Flames of unknown origin early Saturday destroyed the barn and three other building. on the Car) Dake farm, eight and a half miles southwest of Vinton, causing a tentatively estimated lose of nearly $10,000

Twelve hundred bushels of sealed corn were destroyed by the, raging fire, which could be seen from many sections of the county. Three horses and a bull perished. The blaze swept the barn, In which it started; cattle shed, calf shed, hog house and corn crib.



Machinery, Harness Burn

All machinery, harness and 'grains in the building were destroyed. The farm Is owned jointly by H. H. Thrasher of Vinton and his son in-law, Mr. Dake. All of the farm equipment, livestock and grain belonged to the son-in-law. The hen house caught fire, but it and the chickens were saved. The loss is partly covered by Insurance.

Mrs. Dake was awakened shortly before midnight She saw light from the flames shining through the barn windows. Vinton firemen responded to a call at 11:55 p. m. Because of engine trouble the fire truck was abandoned at the Narber corner, five miles south of here. Fire Chief Geo. Gordon went on to the fire in his own car, and the firemen were taken in other automobiles. Later the Keystone fire company was called. One thousand neighbors and residents of nearby towns gathered on be Dake place during the fire. The highway was blocked with cars.

The only buildings left on the farm are the residence, hen house and garage. None of the buildings were electrically lighted.


---


He seldom raised his voice but had a favorite saying when trying to keep his children in line "I'm telling you this once and only once". He was very mechanically inclined and would completely overhaul his own cars. He converted a 1920 Buick Touring Car into a truck that his children drove to school in Vinton.

He was an active Farm Bureau Member. He was Secretary of the Big Grove Township School Board and was responsible for hiring country schoolteachers. In 1944 he retired from the farm and moved to Vinton, Iowa, to live in the home previously built and lived in by Henry Thrasher, at 513 B. Ave., Vinton, Iowa. Maude and Carl were active members of the Vinton Methodist Church in Vinton. He enjoyed fishing as a past time.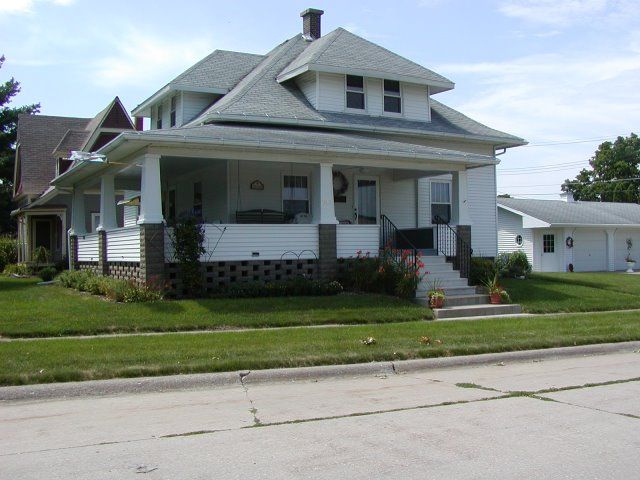 Vinton Iowa Home
His wife died in 1958 and he lived alone for several years before entering the Virginia Gay Hospital Annex (Convalescent Home). On Feb. 22, 1966 he died at the home and was buried next to his wife in Evergreen Cemetery, Vinton, Iowa. (Lot 23, Block 3, NW Addition)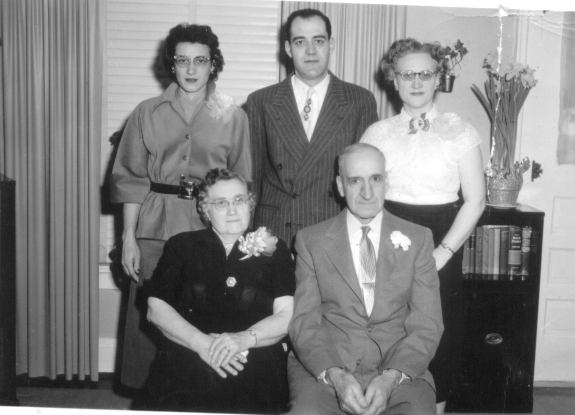 LEWIS CARLTON DAKE FAMILY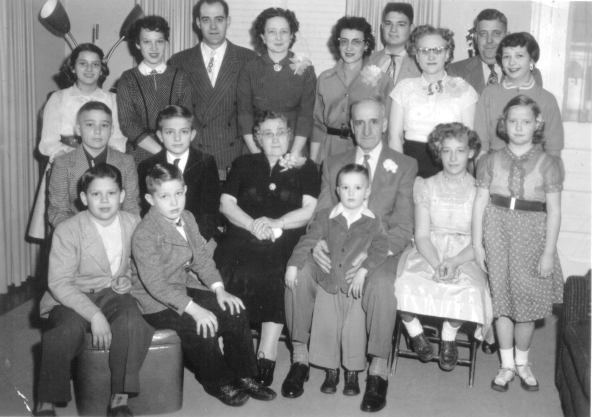 LEWIS CARLTON DAKE FAMILY AND GRANDCHILDREN
Back Row: Monica Reed, Karen Reed, Myron Dake, Charlotte Dake, Thelma (Dake) Reed, Donald Reed, LaVonne (Dake) McVey, Orval McVey, Beverly McVey

Middle Row: Maurice Dake, Dennis Dake, Maude (Thrasher) Dake, Carl Dake, Barbara McVey, Janice McVey

Front Row: Richard Reed, Ronald Dake, Robert Dake